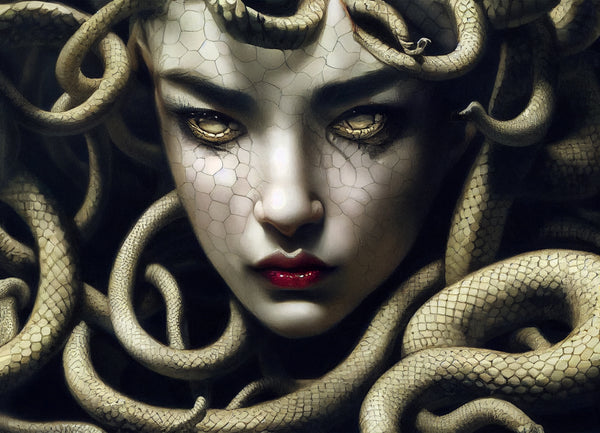 Legendary Self-Care
Our products are inspired by legendary figures in history, mythology, and folklore from all over the world.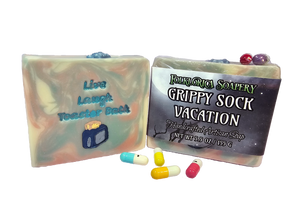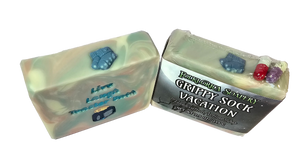 FEATURED ITEM: GRIPPY SOCK VACATION
This Suicide Prevention Month, we're featuring Grippy Sock Vacation, our dark-humored jab at toxic positivity. Let's face it, we are facing a mental health crisis in this country, especially within the past few years. Life can be devastatingly hard sometimes, and many people, including us, struggle with depression, anxiety, or other issues. Laughing through the tears helps us more than a "Good vibes only" mantra. This bar features little grippy socks on top and has a clean and calm scent blend of jasmine, clary sage, and ylang-ylang. 100% of the proceeds will be donated to To Write Love On Her Arms, an organization that provides mental health resources to people who cannot afford therapy. IF YOU ARE STRUGGLING AND NEED TO TALK TO SOMEONE, PLEASE CALL THE NATIONAL SUICIDE AND CRISIS HOTLINE AT 988.

"What an amazing creator and kind human being. My first shipment got lost in the mail, but she sent a replacement right out and now I have so many bars of fantasy-based soap to lather with and enjoy! They're beautiful to look at and wonderful to smell!" (Don't skip that Route package protection at checkout, folks. It's worth it!)
Brenna

"This soap is not only beautiful, but smells amazing and has a good lather. I will be making more future purchases!"
Devin

"10 star product! Smells great! Softens the lippies."
Soannalia

"Truly though, soooo gooooood."
Nick

"Very nice soap. Extra large bar. Feels soothing and moisturizing. I'll definitely be ordering more."
DeAnna
ADA STATEMENT
If you need assistance with ordering, such as additional descriptors or assistance with locating items or scents, please contact us at pixie@folkloricasoap.com.