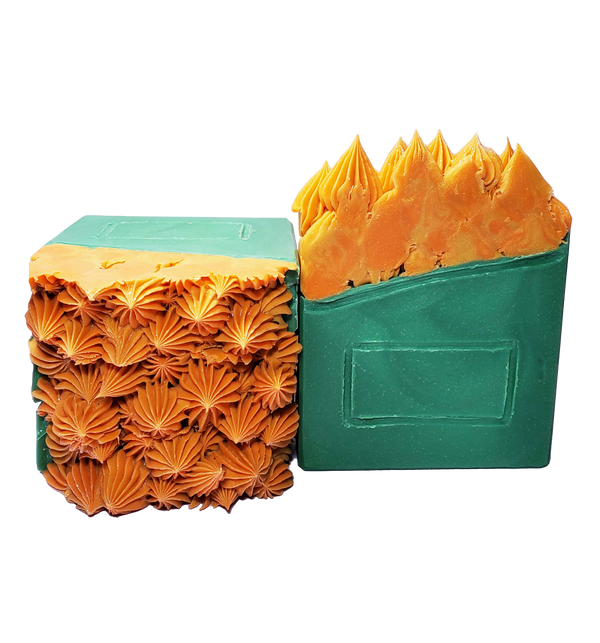 Scent Profile: Don't worry, this bar does not smell anything like a hot dumpster. It's a clean and delightful blend of green tea, aloe, and lemon.
Featured ingredients: Aloe, Coconut Milk, Kaolin Clay, Tussah Silk
Weight: 7.2 oz (198 g) or more
About the Bar
Let's face it, between a pandemic, the rising cost of living, and political and social upheavals, the past few years have been...well...hot garbage. And that's putting it nicely. This dumpster-shaped soap is an homage to all the times we'd rather not remember and the resilience we managed to find every time we didn't think we had any left. This one makes a great gift for anybody going through chaos – maybe your work bestie at the crappy job.
Ingredients
Olea Europaea (Olive) Oil, Cocos Nucifera (Coconut) Oil, RSPO-Certified Sustainable Elaeis Guineensis (Palm) Oil, Aloe Barbadensis Juice, Sodium Hydroxide, Aqua, Helianthus Annuus (Sunflower) Seed Oil, Brassica Campestris (Canola) Oil, Fragrance, Ricinus Communis (Castor) Oil, Cocos Nucifera (Coconut) Milk Powder, Kaolin Clay, Sodium Lactate, Mica, Titanium Dioxide, Iron Oxide, Chromium Oxide Green, Eco- Friendly Glitter, Tussah Silk Fibre