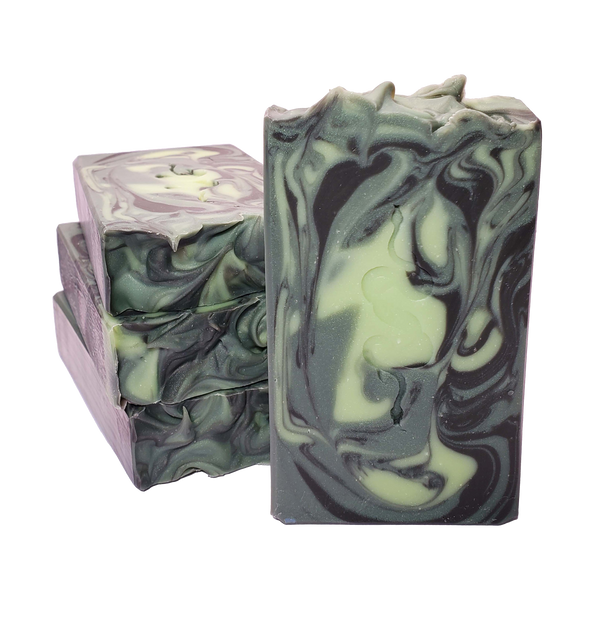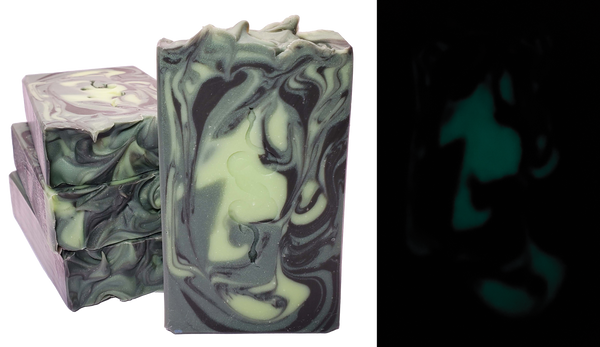 This bar glows in the dark.
Scent Profile: A bright blend of lime, neroli, and frankincense

Featured Ingredients: Aloe, Goat Milk, Kaolin Clay, Tussah Silk, and Skin-Safe Glow-in-the-Dark Colorant

Weight: 5.4 oz (153 g) or more
About the Bar
Medusa was a venomous, snake-haired gorgon from Greek mythology. She and her two sisters were both beautiful and horrifying. But Medusa's story didn't begin there. She was once beautiful, with gorgeous hair. Poseidon, the god of the sea, saw her and, as gods often did, took what he wanted, raping her in the goddess Athena's temple. In revenge for this defilement of her sacred space, Athena made Medusa a monster and turned her beautiful locks into snakes. Medusa was so hideous that her very gaze turned men to stone. Medusa had lost her beauty and become a weapon. She was cast out and eventually slain by Perseus, who beheaded her and used her against his enemies.
Over time, Medusa's story became yet another example of the trope of the villainous, seductive monster. Despite this depiction, she is a tragic figure, a representation of the victimization and demonization of women. Medusa has become a symbol in the #MeToo movement, partly because she is an example of a victim being blamed and punished for her own victimization. But Medusa was reimagined and empowered anew in a statue ("Medusa with the Head of Perseus" by Luciano Garbati) depicting her holding a sword in one hand and her would-be murderer's head in the other, a steely, determined gaze on her face. This statue was unveiled across the street from the courthouse where famous men (including Harvey Weinstein) were convicted of sexual assault. Women who had been blamed for their own sexual assault saw this image as a symbol of rage, triumph, and catharsis, a symbol that women can take their power back.
Medusa soap features a snake on the bar face and snake-like swirls on top. It contains activated charcoal and has sparkly swirls of black and green. The lightest shade of green will glow in the dark when exposed to bright light.
Ingredients
Olea Europaea (Olive) Oil, Cocos Nucifera (Coconut) Oil, Aloe Barbadensis Leaf Juice, RSPO-Certified Sustainable Elaeis Guineensis (Palm) Oil, Sodium Hydroxide, Prunus Amygdalus Dulcis (Sweet Almond) Oil, Ricinus Communis (Castor) Oil, Fragrance, Caprae Lac (Goat Milk), Kaolin Clay, Sodium Lactate, Luminescent Zinc Sulfide, Mica, Titanium Dioxide, Activated Carbon, Chromium Oxide Green, Tin Oxide, Iron Oxide, Eco- Friendly Glitter, Tussah Silk Fibre